Q:
What is the difference of crowd in their mind set because of change in preferences and construction so what is your intake in this property show?
A:
 Now there is a big change in customers mind. Day by day expectations are increasing. so developer has started giving quality work with considering environment and also developer has started giving smart home. We have first time introduce automation apartment in A'bad. Apart from that we are following all environmental rules. As a member GHED we are also following GHED norms.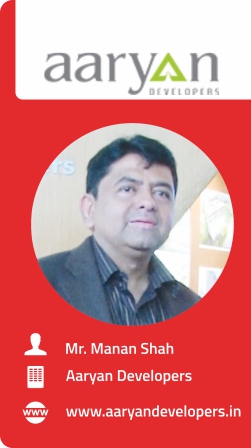 Q:
 Tell me something about your recent project.
A:
4 BHK near prenatieth derasar apartment
Aaryan opulence @ Ambli Rd. upto 10th floor already been constructed its 1st residential bldg 21st storey bldg.
Gulbai Tekra BRTS rd Commercial Bldg.