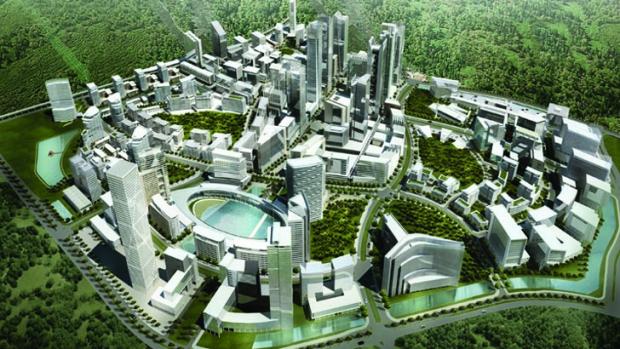 The government declared its plans to convert 98 Indian cities into Smart Cities.
The government on Thursday finally declared its plans to convert 98 Indian cities into Smart Cities. While Uttar Pradesh gets most of them, nine state capitals including poll-bound Bihar's Patna, are missing from the list. Uttar Pradesh got 13, Tamil Nadu 12, Maharashtra 10, Madhya Pradesh seven, Gujarat and Karnataka six each, and Andhra Pradesh and Bihar get three each. The state capitals that made the cut are Kolkata, Mumbai, Jaipur, Bhubaneswar, Chennai, Greater Hyderabad, Ahmedabad and Greater Mumbai. The nine state capitals that have not been included are Patna, Shimla, Bengaluru, Daman,  Trivandrum, Puducherry, Gangtok, Kolkata and Itanagar. All Union Territories, including Delhi, have found place in the list. The Uttar Pradesh government has been asked to decide between Rae Bareli and Meerut as the 99th Smart City. The Jammu and Kashmir government had proposed two cities – Jammu and Srinagar – instead of one, so the 100th city is yet to be chosen. "Smart Cities need smart people. We need people's co-operation to move forward in our mission. Our prime motive is to enhance urban life. The mission is very practical and realistic," Urban Development Minister Venkaiah Naidu said as he made the announcement. Prime Minister
Narendra Modi
had launched the criteria and guidelines for 100 Smart Cities to be selected through city challenge competition in June 25. "Barring Jammu and Kashmir, all states have finalised the names of proposed Smart Cities through competition. So there are total 99 cities being selected across the country," sources in  Ministry said. The Centre has earmarked Rs 48,000 crore for development of 100 smart cities. Some of the lesser-known cities and municipal areas such as Bihar Sharif in Bihar, Moradabad and Saharanpur in Uttar Pradesh, Dharamsala in Himachal, Shivamogga in Karnataka were nominated by the states. In the first phase, the Centre will pick 20 cities and in the next two years, 40 cities each will be selected for receiving the central funding of Rs 500 crore spread over the next five years. Each Smart City would get a Central assistance of Rs 100 crore per year for five years.
Source of India Today 27Augus